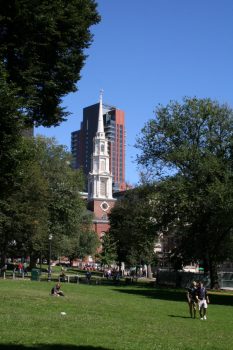 Our Boston GPS Walking Tour is now available with narration that starts automatically as you approach each point of interest (POI). No more fumbling to find the Pause button when you should be looking at what the narrator is talking about.
Included are 40 POIs and almost 100 pictures in several areas:
Boston's tony Back Bay neighborhood, part of the late 19th century 7-mile-long "Emerald Necklace"
Copley Square.
Boston Public Garden, probably the country's first public botanical garden
Boston Commons, Cheers Bar, Old Beacon Hill Neighborhood, and the State House
The Historic District with the Old State House, site of the Boston Massacre
The Greenway with the Harbor and the original Quincy Market
The Italian North End, Paul Revere's house & Old North Church.
Tours4Mobile are unique because they include pictures throughout so that you know exactly what the narrator is talking about. Another difference is that it includes far more information that other apps. Give it a try and let us know what you think. Here's one review:
"This is a great tour! I bought it for a business trip to Boston, and stayed an extra day to take the tour. I'm glad I did – this tour is much more than just a walk in the park – it's filled with the kind of history that only Boston can offer. If you're a history buff like me, you won't be able to resist the Paul Revere house, the Old North Church, the Old State House, Faneuil Hall, and many others so significant to the history of the U. S. and the world. The author not only leads us to each, but shares some little-known facts and stories about them as well. It's a considerable walk – bring your hiking shoes, but there's plenty of opportunity to stop and savor the sights, sounds, and tastes of both the historical and modern parts of this city. You'll be glad you took the time out to experience Boston in such a personal way." Bob S. of Los Angeles
Author Ken Lovering has lived in the Boston area for over 20 years. He watched his hometown transform into a great walking city as its elevated expressway was banished underground, making way for the new Rose Kennedy Greenway. Ken is a Solas Award-winning writer and has contributed to many travel publications. He is the owner and operator of KL Marketing Communications, a provider of travel content, copywriting, and creative services for the travel industry.
Cool App Features in the Boston GPS Walking Tour:
Hands-free activated GPS audio and complete interactive preview.
Location triggered audio at interesting spot circles.
Easy to follow tour guide, stop and start anywhere, or just explore on your own.
Tour Zones – preset map panning and overview of the tour.
Directions – you can get real-time directions to any spot using your smartphone's navigation.
Download it now and use it. No reservations, no sign-up process or fees.
Interactive to preview your tour with pictures and map.
No annoying ads.