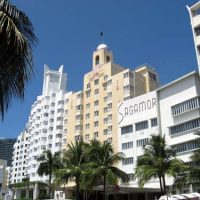 There are tour guides, and then there are great tour guides. Are they available, affordable, or accommodating? Hmmm… An independent traveler might consider an audio walking tour but when you can't tell which building the narrator is talking about, you need pictures because, as we know, they tell 1000 words.  Tours4Mobile shows you the way with photos and narration, is affordable and available on your schedule. With the release of local resident and expert guide Martin Crossland's latest Miami Beach Art Deco GPS Tour, visitors and locals alike can explore while seeing exactly what they are hearing, the legends and historical facts, AND their mobile device GPS will keep them on track, launching the narration as they approach each landmark.
With 55 points of interest and nearly 100 pictures, this walking tour of Miami's historic Art Deco district includes:
Introduction
A Dollop of History
North of Lincoln Road
Lincoln Road to the Post Office
Post Office to the Beach
Ocean Drive (Deco Drive)
Cool App Features
Hands-free activated GPS audio and complete interactive preview.
Location triggered audio at interesting spot circles.
Easy to follow tour guide, stop and start anywhere, or just explore on your own.
Tour Zones – preset map panning and overview of the tour.
Directions – you can get real-time directions to any spot using your smartphone's navigation.
Download it now and use it. No reservations, no sign-up process or fees.
Interactive to preview your tour with pictures and map.
No annoying ads.
Tours4Mobile are a great value when you compare them to other audio tours that often have less than a dozen points of interest, and no text, images or GPS directions! For less than the cost of a sandwich, you'll get an expert tour guide that is available, affordable, and accommodating 24/7.  J. Valle, Los Angeles, CA.
Mobile software technology provided by Tours4Mobile's partner iApp Tours.