Earn new revenue when you refer travelers to Tours4Mobile.com
Our partner program for ancillary revenue is free to join, it's easy to sign-up and requires no technical knowledge. It's been called "Brilliant!" and "A no-brainer!" Currently offering 25% for new partners. Watch this short video and then click the button to learn more.

HOSPITALITY & TOURISM PROFESSIONALS:
For everyone who asks, "What's there to do around here?"
This is an opportunity to create relationships with your guests!
Just show them Tours4Mobile: walking tours on your phone.
Much more than an audio guide, it's like a friend showing you around!
The display card provides links to local guide in the app stores.
TRAVELERS GET NEW LOCAL EXPERIENCES:
Tour 24/7, no crowds, any pace, history, legends, landmarks, maps, advice from the locals…
Perfect for independent travelers, 24/7 satisfaction.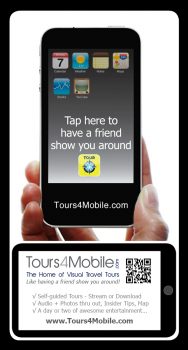 YOU GET HAPPY CUSTOMERS PLUS REVENUE:
COUNTER TOP DISPLAY DETAILS: 6.5" H, 4" W, 1.5" D
Customized with your business name and contact info (optional).
Includes QR Code and URL for tracking all sales generated by your customers, for ANY tours they purchase throughout the year, so YOU earn commissions.
Click for our B2B offer
How Does It Work?
When you join our partner program, you will be supplied with a range of text and banner links that you can place within your emails or on your website. When a user clicks on one of these links, they will be brought to our website and their activity will be tracked by our revenue tracking software. You will earn commissions based on your commission type, for ANY tour purchase made within 360 days by that customer. The 360 day cookie will still track that customer and credit you the sale! It's that simple. Login 24 hours a day to check your sales, traffic, account balance and see how your links and banners are performing.