ANNOUNCING: A new tour, the Mission Exterior Walk, which supports the Franciscans' continued care of the Mission grounds. Stroll through history with a 15-minute narrative overview that will enhance your experience as you explore its exterior grounds.
Mission Santa Barbara is one of the most photographed sites in the United States, but few know its secrets. Stroll through history with an experienced guide to learn some surprising information about the Queen of the Missions. This magnificent structure is not the first chapel to be built on this site. The first was an adobe structure destroyed by earthquake in 1812. Find out how the city of Santa Barbara received its name and what technology brought by the Spanish changed California's landscape. This tour will enhance your experience as you stroll the exterior grounds of Old Mission Santa Barbara.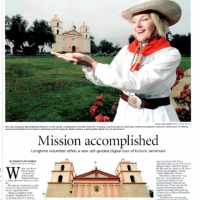 Lisa Knox Burns is a long-time docent at the Old Mission with a professional background in city planning. On the walk around the grounds of the Old Mission you will see historical sites through her eyes, providing information that is both educational and entertaining. We applaud her efforts to raise funds and awareness!
You can download the eBook tour from Amazon, click here. And the narrated app, with geo-triggered audio, is available here.
 "Santa Barbara Mission Exterior Walk is wonderful and very informative."  Pat Hayes Wotruba
Photo by Betsy J. Green with Lisa K. Burns holding Santa Barbara Mission Museums, 2013 Volunteer of the Year award.
Santa Barbara NewsPress article Life section 5-22-19.
Note: This is the personal project of Lisa Burns and is not affiliated with Mission Santa Barbara's services or tour offerings. Out of her own kindness, she is donating a portion of her profit to the Mission. Tours of the Mission's interior grounds are available from Mission Santa Barbara for a separate purchase.