New NOOK Color & Kindle eBook Personal Travel Guides from Visual Travel Tours   
San Francisco, CA – March 27, 2011 – Now that e-readers work in daylight, include images and weigh so little, the traditional walking tour has a new platform. San Francisco Bay Area tours from VisualTravelTours (VTT) take the traveler on a dozen different trips in the S.F. region. E-reader guides can be like having a friend show you around.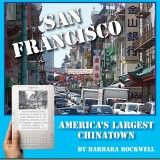 Now available on Barnes & Noble's NOOK and Amazon's Kindle as well as most tablets and smart phones, VTT eBook virtual tour guides make the most of each vacation day or free time on business trips.   
According to VTT CEO Marie Profant, "We're pleased to be launching on the NOOK Color because our eBooks, which we call QuietGuides™, are generally 50% images and 'pictures are worth a thousand words.' This abundance of photos allows travelers to become immersed in their journey, confident they are viewing exactly what is in the description."   
"Without the weight of a traditional book or the complications of an app, e-readers offer convenience for travelers of all ages. With so many eBook tours in our VTT inventory we're excited that Gartner forecasts e-reader sales will grow by 68% this year," added Profant.   

SF Bay Area resident and VTT Executive Editor Gordon Burgett describes some of the tour benefits: "You can use them at your own pace, on your own schedule, and even preview the tour, maybe while you're waiting in the airport or on the train, so you know where you want to spend your valuable vacation time, or extra hours on a business trip." This format saves tourists the price of a personal guide, and the SF tours supply in-depth narratives of areas like Chinatown, Golden Gate Park, Angel Island, North Beach, Embarcadero & Ferry Building, Sausalito, Berkeley, and more.   
About Visual Travel Tours   
Visual Travel Tours meet the needs of anyone who wants a friend to show them around. VTT has married traditional storytelling and photography with the latest technology, delivering guided tours to any mobile device so that the entire family can share one tour no matter which phone, tablet or e-reader they prefer. Headquartered in Santa Barbara, VTT was started in 2007. Nearly 200 VTT tours of US and international locations are ready to download from the company's site, www.visualtraveltours.com. Inquiries are also welcome from those interested in publishing their own content, such as instructions, announcements, fiction or non-fiction, in QuietGuide™ format (text and images optimized for mobile devices).   
FAQ: How are VTT tours different from travel apps, blogs or search results?
1) Apps offer travelers many useful functions like hotel and restaurant reservations, and time-sensitive info like flight status. VTT offers non-commercial, "ever-green" material, history, legacies, etc. just like museums do, but in our case it's around neighborhoods, on routes or to off-the-road destinations.
2) Search results are a fragmented collection of facts that have to be assimilated, and relying upon blogs can result in "hit-or-misadventures." In comparison, VTT offers a library of professionally written tours, each with a narrative, sequential story line, with what to see along the way. See critic's remarks:  SATW Award-Winner   
3) VTT tours are virtual field trips which teachers worldwide might find useful, based on tremendous local response: Virtual Field Trips/  
4) VTT content is available cross-platform so that families can tour together, each with the narrative/imagery on the device of their choice. QuietGuide™ tours appear automatically when purchased from e-reader stores (NOOK and Kindle), and can be downloaded from www.VisualTravelTours.com to any tablet or mobile phone that has a PDF reader. Many VTT tours are also available in audio/video versions, for download in all the standard movie and audio file formats.
# # #   
Media Contact:   
Marie Profant, VisualTravelTours   
805-705-9179