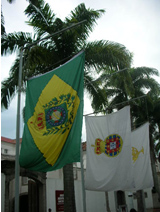 By Marcelo Mackinnon
There is no other city in the world where having a friend to show you around (i.e. Tours4Mobile) will be as useful as in Rio de Janeiro, Brazil. With 8000, bars, 3600 restaurants and dozens of kilometers of white, sandy beaches to cover, Rio´s breathtaking tropical atmosphere inspired me to invite you to travel to this exciting destination.
On your fist visit, the best place to begin is Copacabana, approximately 40 minutes drive from the airport (officially known as Tom Jobim International). Known as 'Copa' by the Cariocas (locals), this is where most of the hotels are located. Southwards and within walking distance of Copa is Ipanema Beach, a place made famous by Tom Jobim and Vinicius de Morais in their song 'Girl from Ipanema'. According to the insider legend, these musicians would spend a lot of time in a bar, waiting for a tall, tanned, young and lovely girl called Helo Pinheiro to pass by. Today the bar is still there, the street is named after Vinicius, and Helo is a national celebrity.
By the way, if you plan to buy property, be warned that Ipanema is the most expensive neighborhood on the planet. Next to Ipanema is Leblon, not so crowded during the day, and favored by actors, singers and fashion models. However, if you really want to 'Rock in Rio', Lapa is the place, full of bars, restaurants and cabarets. If you can´t get any action there, you won´t get it anywhere!
But to experience the history and landmarks, take a tour with us at: https://tours4mobile.com/brazil-tours/walking-tours/historic-rio-de-janeiro-tour/.