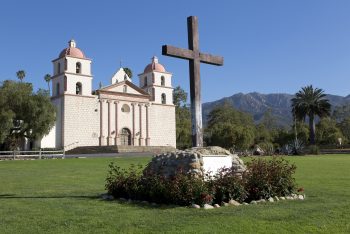 On October 29th Santa Barbara welcomed guests of Princess Cruises with a Ride Through History and Tour Old Mission Santa Barbara, which is a new collaboration benefiting the Mission. Thanks to the support of the Santa Barbara Airbus, Mission docents, and many others, cruise passengers had the option to spend time enjoying an immersive experience at this National Historic Landmark. They were treated to insider stories and cultural history as Marie Profant, whose family launched several local organizations, and guide Professor Julie Ann Brown hosted the downtown sightseeing segments, on a comfortable ride to and from port. Content for the narration was gathered from several Tours4Mobile apps. Guest feedback resulted in 5 Star ratings, so plans are being made for the coming season.
Princess Cruises, part of Carnival Corporation, is excited to offer a new Shore Excursion to the Old Mission.

"We've always wanted to highlight the history of the California missions and now our guests will have the opportunity to visit the Old Mission in Santa Barbara with expert local guides."

In early January 2020 Holland America added this same shore excursion for their guests.
In common with Carnival, the guided tours by Marie's company, Tours4Mobile, provide unique adventures where history comes to life through the stories of local experts. Travelers can experience the cultural and artistic aspects of Santa Barbara while learning about its history. On this new shore excursion, cruise guests hear behind-the-scenes stories about many of the architectural landmarks, performance venues, and art galleries.
Discovering that cruise passengers wanted to spend more time at the Mission, Marie joined forces with her friend and Mission docent Lisa Knox Burns to create the Mission Exterior Walk, published recently by Tours4Mobile. Part of the proceeds from each app purchase are donated to the Mission to support this National Historic Landmark.
Knowing that the Mission offers highly researched guided tours of the interior, it was clear that Tours4Mobile could collaborate with them to offer cruise guests a fully immersive experience, particularly by adding some unique treats that are only available during special events.
The collaboration of many individuals make this whole excursion a testament to a community working together to warmly welcome guests to Santa Barbara. Details here: Historical Tour SB Flier 11-12