Watch this video clip to see the new features, then scroll down to select a tour:
"The audio starts automatically as you walk!"
Tour San Francisco: Announcing four new apps for the best user experience navigating some of the most interesting areas of San Francisco — Chinatown, Embarcadero Waterfront, Telegraph Hill,  National Parks, Forts, Trails, and Sausalito.  Bundle of all 4 is here! For hikers, foodies, historians and families – these apps include location triggered audio features as you are guided by local experts on the audio walking tours including pictures throughout and dozens of POIs (points of interest). It's like having a friend show you around!
Tour San Francisco Chinatown
by professional travel writer Barbara Rockwell
Tour San Francisco Embarcadero Waterfront
by award-winning journalist Laura Del Rosso
Tour San Francisco Telegraph Hill
by tour guide/teacher/author Suzanne Hogsett


Tour San Francisco National Parks, Forts, and Trails
by travel writer/publisher Brad Olsen


Bundle of all 4 SF apps

Tour Sausalito
by travel writer/publisher Gordon Burgett
On your mobile device, tap the app store logo above to download your apps today!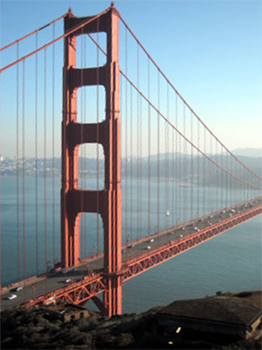 What's better than an audio guide? If 'a picture tells 1000 words', tons of images presented throughout a narrated walking tour, must be the next best way to explore, entertain, and impress travelers worldwide. Tours4Mobile founder Marie Profant explains, "Our professionally written and curated tours have always been uniquely different from traditional audio tours in that they include pictures with nearly every paragraph, so that people can preview and plan where they want to spend their valuable time and money, and at the destination they know what the narrator is talking about, and virtual travelers can transport themselves as well. Based on this concept we have sold thousands of tours, narrated and in QuietGuide® format – which is like an eBook but with tons of images, interactive maps and many additional functions via our app. Now, by adding location aware features, we've made the tours even more convenient in that you don't need to tap or click a thing to start the narration. As we like to say, it is 'as smart as your new mobile device'." The new tours include enhanced interactive maps, and don't require a specific sequence of POIs (points of interest). The apps are available in the Apple and Android stores for $4.99 each. Look for more Tours4Mobile with real-time navigation in the coming weeks, with innovative, intuitive, and interactive mobile technology powered by our partner iApp Tours, developed by Rick Bonatto, Software Architect and CEO.
The tours include
Easy to follow tour path with where to start and end. Stop and start anywhere you like.
Tour Zones – fast map panning and overview of the tour.
Visual Audio Zones – you can see when the audio will be activated. No guessing where and when you can expect audio.
Directions – you can get real-time directions to any POI as expected from your smartphone.
Download it now and use it. No reservations, no sign-up process or fees.
Interactive to preview your tour.
No annoying ads.
On your mobile device, tap the app store logo above to download your apps today!