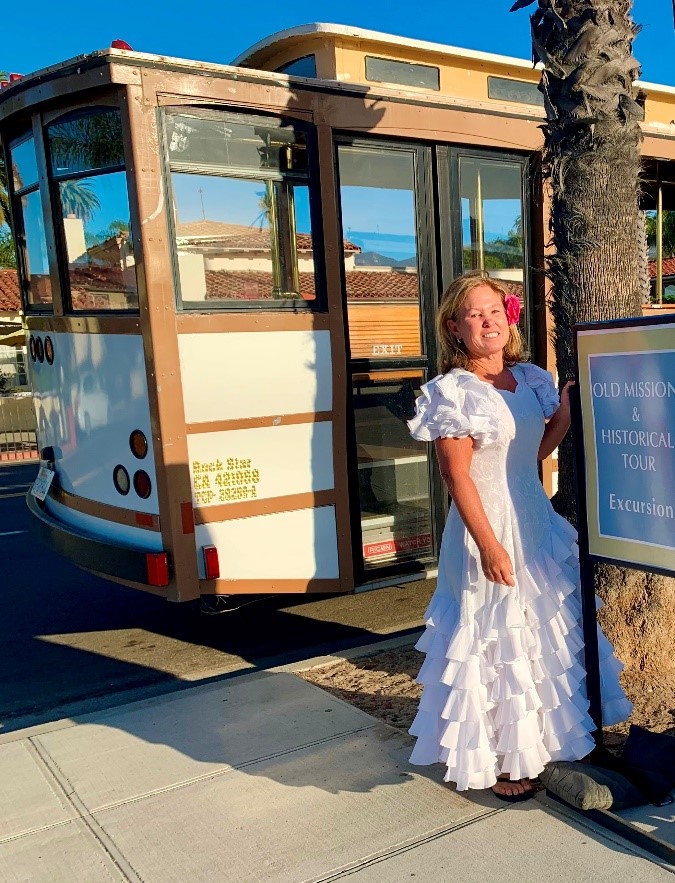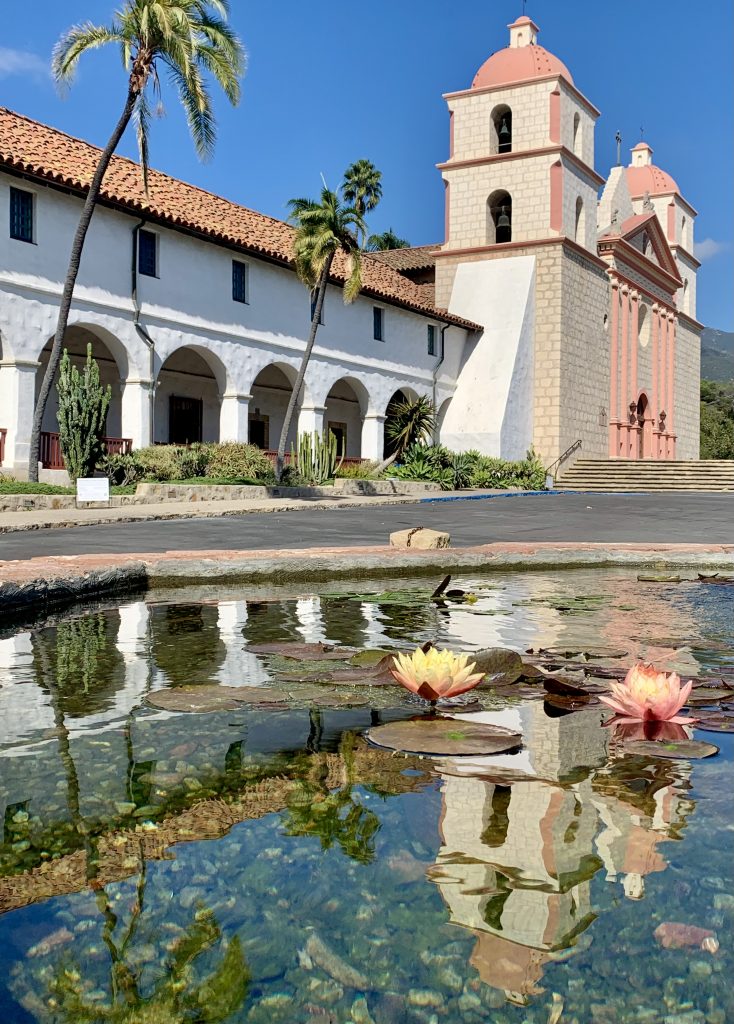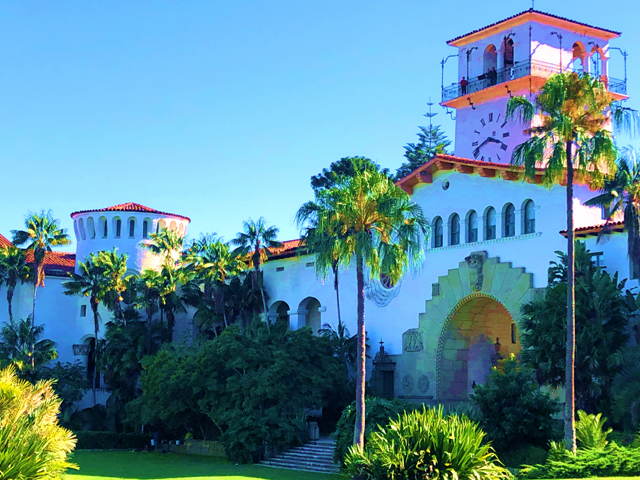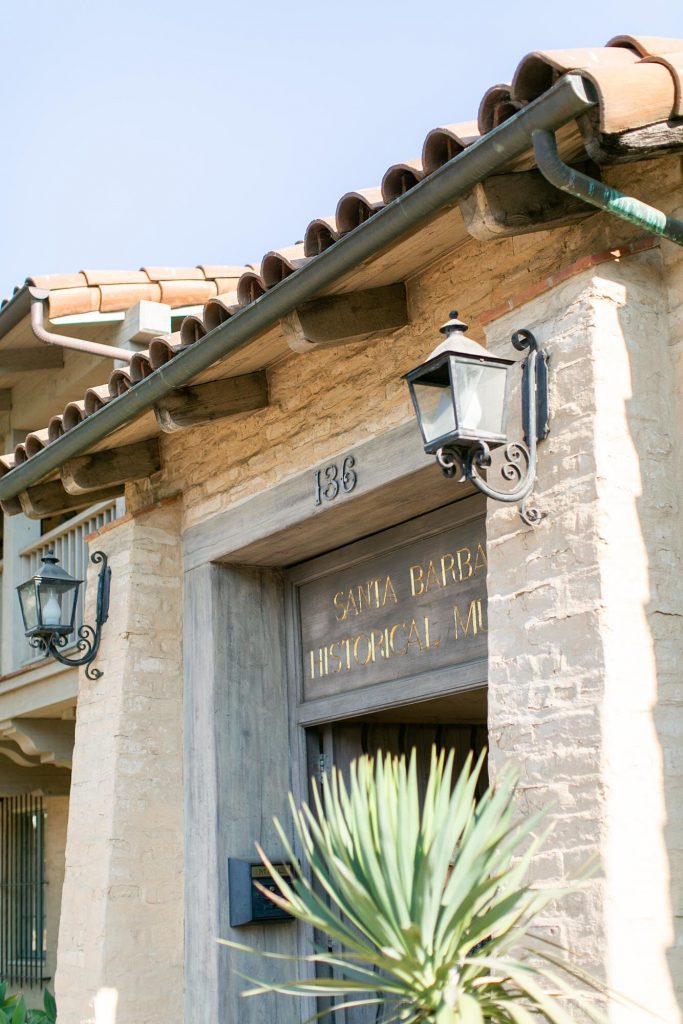 Trolley Sightseeing Ride and Special Tour Admission to your choice of:
Old Mission Santa Barbara
Santa Barbara Historical Museum
Santa Barbara County Courthouse
You'll have special skip-the-line priority access and a tour of the interior and grounds, led by friendly, trained docents.
Individuals: see foot of this page for space available and dates.
Groups: Now reserving tours for groups of 20 or more. Reserve 1 week in advance, or more for best availability.
INCLUDED: This excursion begins with a greeting by a Spanish-costumed guide with songs of early California playing in the background. Your guide, a Local Expert, will accompany the group on the Trolley Ride Through History, explaining the itinerary, sharing the towns cultural history, and pointing out interesting landmarks and architecture in the downtown area, showcasing why the town is called "The American Riviera". The ride also includes the most popular areas along Cabrillo Blvd, Chase Palm Park and coastline views of the Channel Islands, by the lagoon known as The Bird Refuge, and Montecito's shopping/dining area on Coast Village Road, the Funk Zone. Legendary landmarks of Santa Barbara, i.e., the Court House, Presidio, De la Guerra Plaza, and Natural History Museum, will be seen on this ride. Guests will hear interesting stories about the architecture, the cultural context and local uniqueness of these venues. For the Court House and Museum excursions we will also stop at Old Mission Santa Barbara for photos. Restrooms and vendor refreshments are available.
Roundtrip transport – From the departure on Cabrillo Blvd — by an open-air trolley of classic design or bus if rain is in the forecast. Details are provided with ticket confirmation.
Gift of Downloads (to guest mobile device) of the Tours4Mobile featuring the Mission Exterior, Haskell's Beach, The Walk from the Mission to the Wharf, Along the Waterfront, and the Legends & Landmarks of Downtown. A perfect way to preview different areas and learn about the fascinating local history.
TICKETS: $100 $85 for Locals on 11/8. Includes 1.5 hour Trolley Excursion to Montecito and Downtown SB, and 1.5 hour interior tour of either the Old Mission or Historical Museum or County Courthouse. Pick up at your hotel (groups) or at the Cruise Welcome Area on Cabrillo Blvd across the street from Chads.
When would you like to reserve your Ride? Contact Us – Tours4mobile.com
Individuals: On a "space available" basis we take reservations for tours on the following dates. You'll be on a waitlist and confirmation will take place 2 days prior to departure. You'll be joining a larger group of visitors. Contact Us – Tours4mobile.com
Day
Date
Departure
Mon
10/2/2023
8:30 AM
Tues
10/10/2023
8:30 AM
Tues
10/17/2023
8:30 AM
Fri
10/20/2023
10:00 AM
Tues
10/24/2023
8:30 AM
Tues
10/31/2023
8:30 AM
Wed
11/08/2023
Noon – 3 PM Ride + Museum
11:30 AM – 3 PM Ride + Courthouse
Fri
11/10/2023
8:30 AM – Noon Sold Out
Old Mission
County Courthouse
Historical Museum