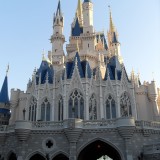 Taking the family to a theme park this vacation? Be sure to download a behind-the-scenes expert guide to preview where you're going, lead you around while there, or enjoy with the arm-chair travelers at home. Four Florida theme park VisualTravelTours have just been released for Kindle devices, the most popular product selling on Amazon.com!
Disney Hollywood Studios Family Tour – From grandma to grandkid, your entire family is the star of the show! Enter glamorous 1920s Hollywood for an adventure you will never forget!
Disney World Magic Kingdom Family Tour – Join a former Cast Member as you weave through a wonderful blend of joyous thrills and quiet attractions, carefully crafted for the entire family to enjoy together.
Disney Animal Kingdom Family Tour – NOT your local zoo! Along with exotic wildlife, this 500-acre adventure wonderland features rides, shows, and attractions that are perfect for your entire family.
Epcot Tour for Families – Part education, part entertainment, and all excitement! This showcase for world harmony and exciting new technology is a wonderful place for families to explore and learn together.
Dozens of other tours of theme parks, with special versions for adults, kids, and those with disabilities, are available. Published in QuietGuide® format (text + images) these tours will display on any mobile device with a PDF reader, or directly via Kindle. What a great way to share a touring adventure with all members of the family, using any of their devices!