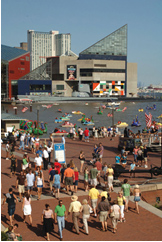 By Julie Hatfield
When my editor at The Boston Globe sent me down to Baltimore to write a travel story on that town, I was not excited. Baltimore? An old, tired city that no one wants to visit, I thought. What does Baltimore have that would make anyone take a trip there?
And then I visited Baltimore. The first thing I saw in stepping out of the taxi was a waterfront that was full of life, full of activity, full of families, and booming. I discovered this waterfront was revitalized from a dangerous, decrepit group of tired old buildings that a progressive mayor had torn down and brought in their place a city center for everyone to use. I discovered one of the quirkiest art museums in the country, one of the oldest and most respected medical schools, and sports heroes and musicians and poets and layers and layers of odd and quirky stories that took place in Baltimore.
I discovered a tremendous sense of humor in Baltimorans, who celebrate the funeral of Edgar Allen Poe with a parade each year because he never had a proper one, and a special warmth in Baltimorans, who call everybody "Hon."
I discovered fantastic food; beginning with Maryland crab cooked every way possible and continuing on to the biggest and sweetest Southern breakfasts you'll ever have anywhere.
I cried when I saw how Baltimorans honor our flag and our national anthem at one of the best forts in the country.
There is so much more. Here's what professional writer Ed Wetschler says about my tour of Baltimore that resulted in two more trips to that town:
"What I like — and, as a travel writer, admire — about the Baltimore guide is the author's ability to understand and communicate what we travelers want and need to know about each site and attraction. She tells us what's important, interesting, and fun without bogging us down in extraneous information. Impressive!"
For a "friend to show you around", see the entire tour here: https://tours4mobile.com/maryland-tours/baltimore-reborn-and-booming/.