HOSPITALITY & TOURISM PROFESSIONALS:
For everyone who asks,  "What's there to do around here?"
This is an opportunity to create relationships with your guests!
Just show them Tours4Mobile: walking tours on your phone.
Much more than an audio guide, it's like a friend showing you around!
The display card provides links to local guide in the app stores.
TRAVELERS GET NEW LOCAL EXPERIENCES:
Tour 24/7, no crowds, any pace, history, legends, landmarks, maps, advice from the locals…
Perfect for independent travelers, 24/7 satisfaction.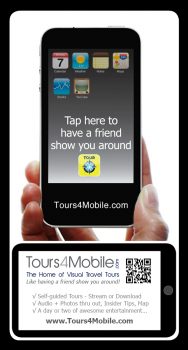 YOU GET HAPPY CUSTOMERS PLUS REVENUE:
COUNTER TOP DISPLAY DETAILS:  6.5" H,   4" W,  1.5" D
Customized with your business name and contact info (optional).
Includes QR Code and URL for tracking all sales generated by your customers, for any tours they purchase throughout the year, so YOU earn commissions.
Click for our B2B offer
Contact us to learn more:  admin@tours4mobile.com